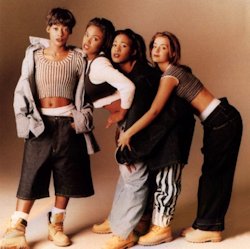 Aged 11, she joined the prestigious Italia Conti School, where she completed 8 years of performing arts. One night whilst clubbing (under age!), Kelle and her schoolmate Louise Redknapp met music producer Denis Ingoldby, who was in the midst of forming a girl band. She auditioned and that band later became Eternal – Britain's most successful R&B group ever. The band went on to sell over ten million records, notching up 14 top 15 UK hits and four top ten albums, as well as achieving Brit Award nominations, MOBOs and Smash Hits Awards, embarking on four world tours and even performing for Pope Jean Paul II. Their debut album, 'Always and Forever' was the first album by a girl group to sell over a million copies and the 'Greatest Hits', released four years later is still the UK's best selling compilation album by an all-female act.
After the group, Kelle went on to release the number 14 solo hit single 'Higher Than Heaven' before spending two years presenting the BAFTA nominated music show 'The N-list' for Nickelodeon.
In 2000, Kelle gained a black belt in kickboxing after taking lessons to help regain her health following a diagnosis with lupus. In the same year she was given the great honour of becoming a celebrity patron of the Saint Thomas Lupus Trust, a cause she continues to campaign to raise awareness of.
Behind the scenes, Kelle was busy developing her own media brand, Advocate Agency – promoting and managing artists, under the ethos of "inspiring self belief in infinite possibilities, achievement and success".
2005 saw Kelle return to her acting roots, when she completed work on her first film 'The Virus'.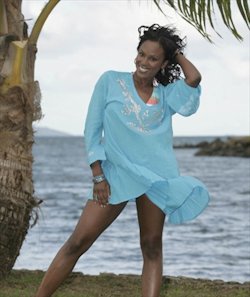 After spending the Summer of 2006 gracing our screens on ITV's 'Love Island', where she finished in second place, Kelle returned to her first love: theatre. She played Eliza Doolitte in 'My Fair Lady' at the Manchester Palace Theatre and went on to star in John Godber's 'Bouncers' and 'The Brothers' by Angie Le Mar, as well as delighting audiences young and old, playing the title role in 'Cinderella' in Telford and Buxton.
Kelle flexed her presenting muscles for the first time since 2000's 'The N-List' by hosting the 'Urban Music Awards' in 2006 and ITV's interactive quiz show 'Glitterball' in 2007.
2008 saw Kelle treading the boards once again – with starring roles in the critically acclaimed 'Torn', 'Rebellion' and the comedy musical 'The X-Tra Factor'.
'The Brothers' was awarded 'Best Theatre Production' at the "BIF Festival 2009″ and Kelle reprised her role in a special production of the play for MTV Base.
In 2009, Kelle was unveiled as the new face of the 'National Lottery Euro Millions draw' and also appeared in the independent movie 'The Naked Poet'.
Kelle completed filming for two BBC productions in the Summer of 2012, the BBC1 sitcom 'Me & Mrs Jones' and the CBBC drama 'Rocket's Island'.
Kelle reformed with her Eternal bandmates for a sold out show at London's Eventim Apollo in 2014, documented during as part of ITV's 'The Big Reunion', as well as appearing as a contestant on 'All Star Mr & Mrs', 'The Chase' and 'Flockstars'.
In 2017, Kelle made her West End debut, in the Young Vic's critically acclaimed production of 'Wings' and joined the cast of 'Hollyoaks' the following year, portraying the role of Martine Deveraux.
Kelle has two children: Regan, born in October 2011 and Kayori Rose, born in 2013.
More information on Advocate Agency please visit advocate.agency